Halloween:
The Haunting Tales of Empire State
"The Lady in the Lake" – Pulpit Rock, Lake Placid, ADIRONDACKS
The story goes that Mabel disappeared while rowing on Lake Placid and wasn't seen again for 30 years. When her body was eventually found near Pulpit Rock by scuba divers, her neck was attached to an anchor, but her body was perfectly preserved due to the depths and cold of the water.
Though she was buried in Brooklyn, her spirit may have never left the watery grave, as many people, especially campers and boaters, have reported seeing a ghostly figure of a woman hovering near Pulpit Rock. These sightings keep the legend of "the Lady in the Lake" alive to this day.
Join Lake Placid Boat Tours in season and visit Pulpit Rock on Lake Placid to see "the Lady in the Lake" for yourself.
"Horseman's Hollow" – Sleepy Hollow, HUDSON VALLEY
To remind you of the Legend of Sleepy Hollow, the town is renowned to be bewitched during the early days of the Dutch settlement, housing ghosts, dark magic and most famously the Headless Horseman – the ghost of a Hessian trooper who had has head shot off by a stray cannonball. They say he rides through the night in search of his head.
Horseman's Hollow takes the tale to its darkest extremes for 15 terrifying evenings! For the month of October, the 300-year-old Philipsburg Manor transforms into a fearsome landscape ruled by vampires, witches, undead soldiers, ghouls, and ghosts, all serving the Headless Horseman himself! Visitors begin walking a haunted trail and will stumble upon scary scenes of a town driven mad by the Headless Horseman – its unfortunate inhabitants eager to keep visitors from ever leaving.
As Sleepy Hollow's premiere haunted attraction, the event is stocked with professional actors and state-of-the-art special effects that produce a high fear factor and not suitable for children. Tickets must be purchased in advance online or on the phone.
The Great Jack O' Lantern Blaze – Croton-on-Hudson, HUDSON VALLEY
Not a haunting tale of dark times, but a tale of Hudson Valley's biggest, most exciting, most electrifying Halloween event! For an astounding 45 nights, discover a breathtaking display amongst more than 10,000 individually hand-carved, illuminated jack o' lanterns.
In this elaborate walk-through experience, meander through an 18th-century riverside landscape or along our main street Pumpkin Promenade and stroll across the Pumpkin Zee Bridge. In this world of wonder, you can be sure to see various swimming aquatic creatures, slithering ground snakes, a giant spider web, a collection of shrunken Little Monsters and gasp at the sight of a giant Sea Serpent surfacing next to the Croton River. Then, gather together around a towering pumpkin bonfire – all made of jack o' lanterns!
Join in this year's Great Jack O' Lantern Blaze and expect original, atmospheric music, sound effects, and professional lighting at the tri-state area's largest and most innovative Halloween attraction.
"Murder At The Hotel" – Broadalbin, CAPITAL-SARATOGA
The Historic Hotel Broadalbin started as glove factory in 1854, then a Keeley Cure inebriate hospital, where in the summer of 1898, a sanatorium conducted by Dr. H. C. Finch. His miracle cure, called the "gold cure" by locals, ended as a scam at the hospital. At one point there were more than 200 of these operations, though the treatment was more than questionable and included injections of poisonous ingredients dissolved in red, white & blue liquids. Some patients suffered blindness and pain… and even death. Do these unfortunate souls still haunt the building?
Some say they've seen soldiers standing at the top of the staircase, figures in the windows, and felt something poke them in the middle of the night. Visit the Historic Hotel Broadalbin and find out for yourself.
The Hotel also hosts "Murder At The Hotel," a three-course dinner and cash bar mystery show that invites you to dinner in the year 1898 with hotel and sanatorium owner Doctor H.C. Finch. Katherine Kerry, a society reporter is on the scene when she witnesses a murder. Figure out who the killer is and win a prize!
Apple picking/Pumpkin Picking:
Fall is just around the corner, and before you realize it, our social media feeds will be flooded with scenic imagery of fall foliage, stylish chunky sweaters and boots and pumpkin spiced lattes.
Nevertheless, one cannot finish the Fall season without a weekend of pumpkin and apple picking, and with so many farms and orchards around New York State, there's no reason to pass up on this autumn tradition..
Below are some of the best places for apple and pumpkin picking (along with hot ciders, food and live entertainment).
Apple Barn at Beak & Skiff
Pick your own apples or purchase them in the Apple Barn at Beak & Skiff, and while you're there, taste-test the orchard's 1911 ciders, spirits, and wines.
Indian Ladder Farms in Altamont
Find apples in the Capital-Saratoga Region at Indian Ladder Farms in Altamont, where you can also get homemade pies, cider, produce, and more. This farm also uses a combination of long-standing agricultural practices as well as advanced ecological orchard management methods to minimize spraying and other environmentally disruptive practices.
Fly Creek Cider Mill & Orchard in Cooperstown
Witness cider-making at the historic Fly Creek Cider Mill & Orchard just three miles from Main Street Cooperstown. Discover the Mill Store Marketplace filled with Pride of New York products like extra-sharp cheddar cheese and creamy Mill-made fudge. Savor the flavors of more than 40 specialty food, wine and hard cider tastings.  Relax on the Millpond boardwalk with lunch or a sweet treat from the Snack Barn & Bakery and a glass of apple wine. Exploring young children can enjoy discovering Tractorland and the friendly ducks and geese. Whether you spend a few hours or a day the Fly Creek Cider Mill provides history, tastes and traditions for generations of visitors. Open all year!
Old McDonald's Farm in Sackets Harbor.
Combining fantasy with reality, Old McDonald's Farm has been hosting families and school children since 1986! Visit more than 1,000 animals from cows and camels to reindeer! Themed hayrides, pony rides, mini golf, gift shop, and cafe including ice cream all await. Tour the modern dairy and experience what goes on to produce milk. Spend the day on the farm in Sackets Harbor. If you like animals, you will love Old McDonald's Farm! Open May until Halloween.
Pumpkinville in Great Valley
Pick out a pumpkin, and interact with farm animals, at Pumpkinville in Great Valley from September 14–October 31.  Fresh pressed cider and bushels of apples and squash are also available.
Great Pumpkin Farm in Clarence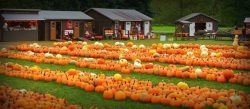 Visit the Great Pumpkin Farm in Clarence from September 14–October 31 to get pumpkins, gourds, and mums to pump up your fall spirit. The Great Pumpkin Farm also hosts a pie-eating contest, pumpkin slingshots, a pumpkin drop, and a petting zoo. In addition, there are many pumpkin-related events happening throughout fall across New York State.
Great Jack O'Lantern Blaze in Van Cortlandt Manor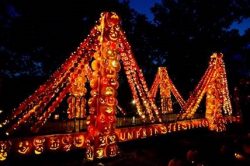 Watch pumpkins light up the night at the Great Jack O'Lantern Blaze in Van Cortlandt Manor, from September 20–November 30.