Ring in the New Year with creative STEAM and STEM toys for the kids in your life. The products are smart, educational, and ground breaking. The new word for 2021 is phygital. Phygital is when something is both physical and digital. Schools will be using more phygital fun products to entice kids to learn. The 3 toys named as contenders in CES's Last Gadget Standing are all phygital!
Furreal Friends Cubby the Curious Bear 4+ Hasbro $100 Unbearable adorable creature that interacts with your little ones www.hasbro.com
Shore Buddies And The Plastic Ocean by Claire Forshaw and Malte Niebelschutz 2+ FSC $11.99 learn about plastic in our environment and what families can do to help reduce, recycle, and reuse. Sammy the Seal plush $19.99 3+ is made from 6 recycled bottles and makes a realistic seal sound. Plastic is killing sea wildlife, so Sammy teaches children about why plastic must stay out of our water. www.shore-buddies.com
LEGO Boost Creative Toolbox 7+ by LEGO $159.99 Programmable high tech robot that kids can make and remake for endless creative time. Learn coding and practice STEM principals. www.lego.com
SmART Pixelator 7+ by Flycatcher $59.99 Kids can easily pixelate almost any design and build 3D and 2D creations with beads. www.smartpixelator.com
Think & Learn Code n Learn Kinderbot 3+ Fisher-Price $60 Learn colors, numbers, counting, shapes, and beginning code with a cute bot. www.fisher-price.com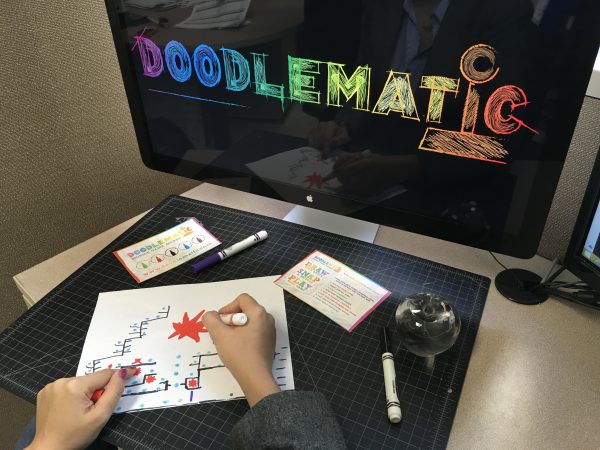 DoodleMatic
DoodleMatic 6+ Tink Digital $29.99 use the easy APP to turn drawings & colored objects into playable video games that can be sent. NO coding necessary! Teaches 39 educational principals!! www.doodlematic.com
WildLuvs Juno My Baby Elephant 5+ Spin Master $100 sweet elephant plays, cuddles, and interacts with you and its environment. 100 lifelike sounds. www.spinmaster.com
LittleBits 8+ Electronic Music Inventors Kit $99.99 Build and rebuild your own music instruments and play like a rock star! 6 templates and 12 activities and everything you need to build a synth guitar and more www.littlebits.com
Lie Detector Game 16+ Hasbro $30 Using FBI tech, learn who is telling the truth in this devious game www.hasbro.com
What do you buy with holiday gift cards? Tech necessities, like grow your own indoor garden kits to dynamic dog collars all make the list. Adults are just big kids, so buy fun finds and explore fascinating discoveries. Don't be afraid to try new products and become enlightened.