Croquettes, cured meats like chorizo and jamon, calamari, paella, olives, roast suckling pig, bravas- fried potatoes with sauce, or anchovies are all superb Spanish foods to try at home or when visiting Spain.
Small cities off the beat and path, like Segovia, offer gastronomic specialties that blow the mind and indulge the palate. When in Segovia try savory roast suckling pig. For vegetarians, gorgonzola based cream sauce on a  pear ravioli is mind boggling and memorable. Fresh Burrata on a homemade thin crust pizza with pesto and basil may not be your typical Spanish cuisine, but notable all the same!
Creamy béchamel croquettes made with jamon, queso, or cod are a delightful way to start any meal or end the day as a snack. The inside is flavorful and kisses the tongue, while the outside should have a bit crunch from being fried. They can be found at tapas restaurants to fine dining establishments. Everyone has a favorite recipe and claims to have the best croquettes in town. They happen to make great snacks in the car if you are touring with a family!
Paella is another popular dish that can be found in most towns in Spain. Seafood, chicken, or vegetarian in variety, this colorful, nutritious, main course is a feast for the eyes and soul. Rice based and radiant, it offers up hearty helpings for hungry travelers. The saffron threads give the rice a yellow cast and a subtle flavor. While many will showcase the dish, it has had a place on the Spanish table for the ease in which it can be assembled and numbers it can feed well.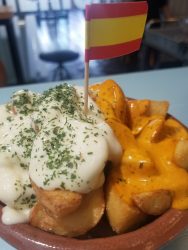 Patatas Bravas, fried potatoes with sauces, like original bravas sauce, garlic mayonnaise, mojo Verde, or mojo Picon are served at tapas bars and mercados. It is said that bravas started in Madrid and grew in popularity. The key ingredient in the most common sauce is pimenton, or smoked paprika. Pimenton dulce (sweet) and picante (hot) are often combined to create the signature sauce. Today, chefs are getting creative with sauces that can top the fried bits of potatoes. Some add queso, while others even add jamon and figs to the mix. Whatever the colorful combination, this filling side dish can be a meal. Its quick, dirty, and delicious!
One does not have to be in Spain to enjoy the above festival of flavors. Recipes are plentiful on the internet and cook books. Sometimes recreating a fantastic food find from a travel can bring back fond memories and create new ones. Solid Spanish food, weather eaten in Malaga, Valladolid, or Manhattan, is always superb and special. Add Sangria to any meal for a bit more fun in the summer!