ENTER THE NY WATERWAY ST. PATRICK'S DAY PHOTO CONTEST AND RIDE THE FERRY TO THE PARADE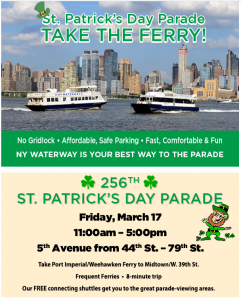 Get ready to wear green and go green this St. Patrick's Day with NY Waterway! The environmentally-friendly NY Waterway ferries offer the greenest, fastest, most reliable way to get to the New York City St. Patrick's Day Parade, which marches up Fifth Avenue March 17, starting at 11:00 a.m.
During the ferry ride to New York City, enter the St. Patrick's Day Social Media Photo Contest for a chance to win a Your Key To The City attractions package for two! May the luck o' the Irish be with ye!
Facts for St. Patrick's Day Photo Contest
Feel Irish for a day and wear green!
Like NY Waterway on Facebook.
To enter, snap a photo on the ferry in your best St. Patrick's Day attire.
Post your picture on the NY Waterway Facebook page by March 19th .
Use #NYWStPatricksDay and #ridetheferry.
The winning photo will be chosen on Monday, March 20th.
For more information, call 1-800-53-FERRY or visit www.nywaterway.com or www.facebook.com/nywaterway or www.twitter.com/ridetheferry